Fresh Fusion: Indian Style
So often our clients are looking for a fresh way to excite their wedding guests' taste buds while still keeping within a familiar flavor palate. Especially when wedding catering is involved, a multigenerational crowd pleasing and cultural approach is necessary. This weekend, our Entertaining Company chefs incorporated familiar delicious Indian flavors and elevated the presentation for this wonderful Indian Wedding at Union Station.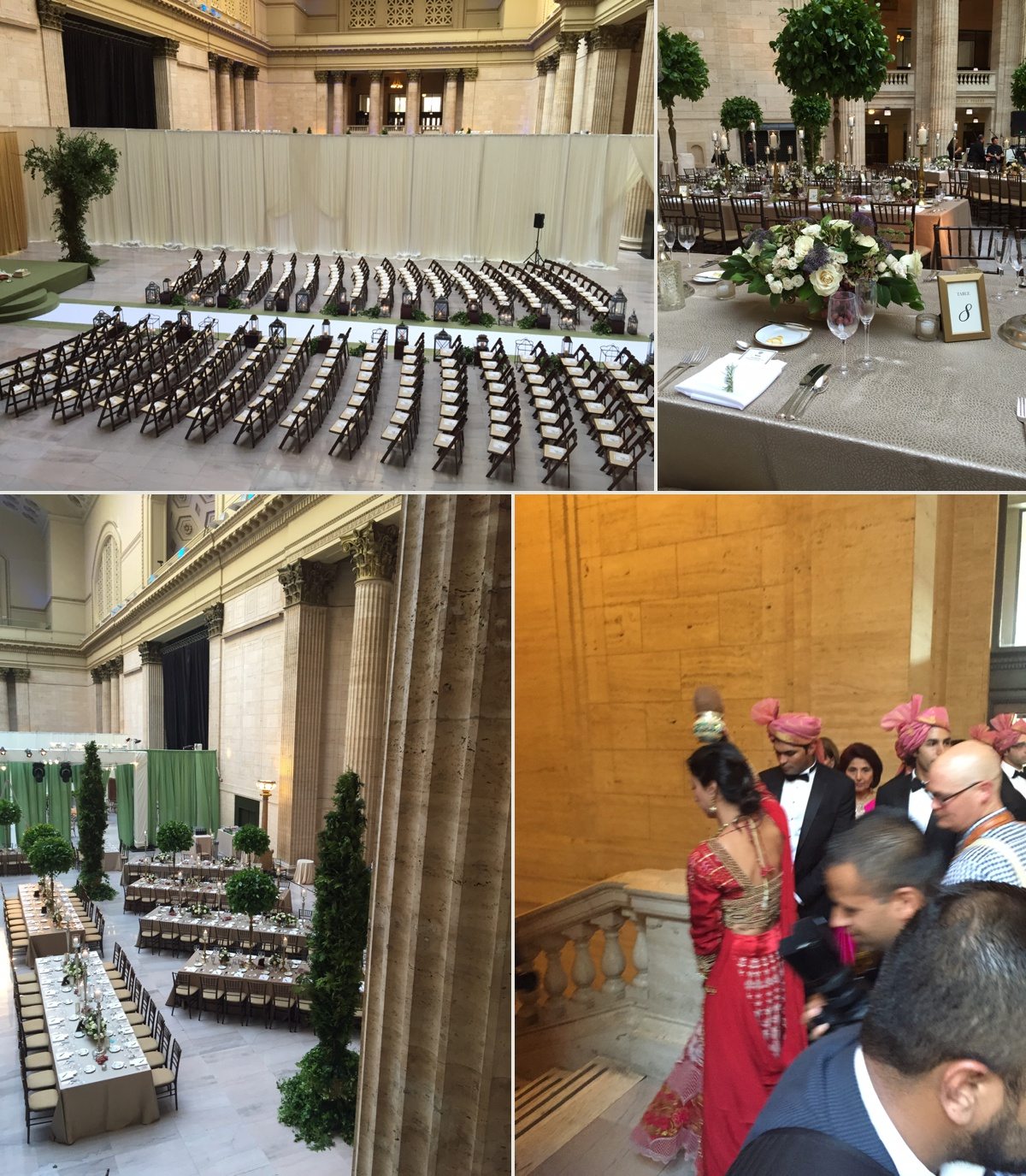 During the cocktail hour, our chefs transformed traditional Indian snack foods into bite size waiter passed hors d'oeuvres. We served hand held Bhelpuri Cones with Chopped Tomato, Potato, Onion, Cilantro and Spicy Tamarind and Mint Chutneys. Miniature Ragara Aloo Patties on Handmade Small Cocktail Buns were topped with daikon cilantro slaw and chimiccurri sauce and then paired with a ginger beef shooter. Tacos got an Indian makeover with Galawat style lamb on a handmade mini paratha taco with garlic mint aioli and micro cilantro.
The high style dinner was plated and served and began with a Mango Matchstick Salad with Spiced Plaintain Crisp and Edible Flower accompanied by Roasted Kaffir Lime Corn Soup. Soup and Salad was followed by a fusion entrée Duet of Spice Crusted Chicken Breast, Saag Aloo Cake and Green Bean Bundle with a trio of Sauteed Coconut Chile Shishito Peppers and Tandoori Sea Bass in Banana Leaf with Kasmiri Chili. Our pastry chefs outdid themselves with Lemon Berry Praline and Pecan Panna cotta Shooters, Key Lime Tarts and Decadent Indian Spiced Brownies as well as Cookie and Cream Ice Cream Milk Shakes.
The impression of the dinner was worldly, yet Indian, familiar and yet sophisticated. This was in keeping with our clients who wanted a nod to both eye and taste appeal~ heritage and culinary adventure.